Yoga & Meditation
I fell in love with yoga in 2006. Back and shoulder issues were causing me significant pain and when chiropractors, physiotherapists, massage
therapists and pills could not offer me any relief, yoga was my savior. I was so impressed with the results and the healing in my body, that I
decided to learn how to teach. I was initiated in Kriya Yoga in 2008 and became certified in Kripalu yoga in 2009. I shared my passion for yoga by teaching to cancer patients at The West Island Wellness and Cancer center from 2010 to 2016. My latest passion is teaching men.
Yoga for Men
I feel we need a teacher who understands our body and who understands our inflexibility and all the issues that arise from it. If you're a male beginner and would feel more comfortable joining a male only class, click on the link below to join me Wednesdays from 7:30 to 8:30pm in Cote St Luc "Cost is $20 per class" .
PARTNERSHIP YOGA
FEBRUARY 15 @ 7:30 PM – 9:30 PM
 $90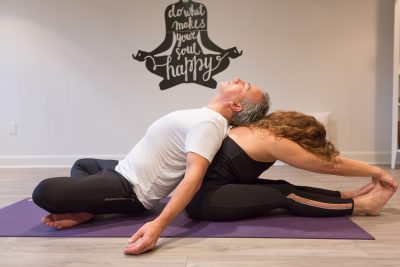 Are you looking for a special evening with your partner?
Are you looking to rekindle your love spark?
If you are interested in deepening your connection with your partner, join us for this intimate candle lit home studio for a night of partnership yoga which will include:
Gentle partner poses designed for beginners
Easy to follow guided mediation,
Breath work and
Exercises to deepen your heart connections .
Cost is $90 per couple. Please email payment to ericantonette1963@gmail.com to reserve your spots.
Space is limited so please reserve early.